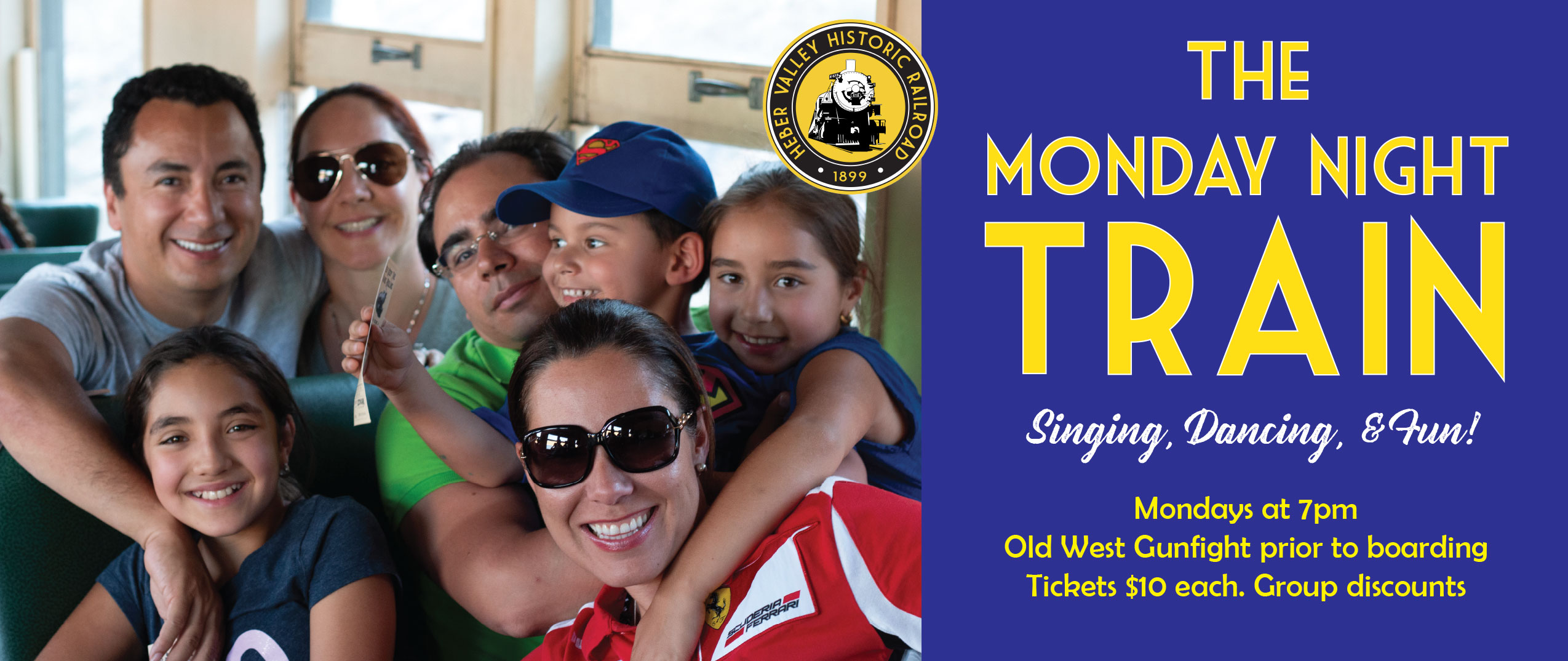 Enjoy this noisy and fun 90-minute round trip ride. Our hosts will lead you through sing-a-longs, games, and family-friendly fun.
Bring all yer little cowboys and cowgirls to this fun event. A short, 40-minute round trip train ride, featuring sing-a-longs and the Saloon Girls. At the depot you'll enjoy an Old West shootout and maybe some line dancing!
This 90 minute round trip offers incredible views of the Wasatch mountains and the wide open vistas of Deer Creek reservoir. Most days at 3pm. Old fashioned hospitality and entertainment on board! The 2022 season begins January 20th.
Dress up in your vintage finest and get your picture taken on the historic Heber Creeper on this fun scenic ride! We'll provide photographers and our cool old train. Great photo ops at the depot and on board. And we'll provide you a link to download the pictures. A great date night!
Important To Know
Our website: hebervalleyrr.org

With historic train equipment we have to occasionally take cars out of service unexpectedly for maintenance or repairs. This may require us to change the coach or class of service you purchased a ticket for. Please be understanding if this happens to you!
Please arrive 30 minutes prior to departure. Trains depart on time!
Children 2 and under do not need a ticket to ride the train (except for North Pole Express)
We are in the process of configuring a new snack car, and for the time begin have very limited snack options on the train. Please purchase snacks in the gift shop prior to boarding until further notice.
Car seats and strollers are not allowed on train.
Restrooms are available on the train.
Alcohol is NOT ALLOWED on the train.
Assigned Seats. Note that on most trains we pre-assign you specific seats in a specific train car. If you are riding with friends or family who have purchased tickets on a separate order, and don't let us know beforehand, you will not be seated together! Please contact the ticket office by phone in advance of your scheduled ride and we will do our best to seat you with your friends and family on separate orders.
Due to the historic nature of our rail cars, wheelchairs access is not available. Please call ahead for additional information.
We are unable to accommodate dogs on the train.
Active duty U.S. military and card-carrying U.S. military veterans ride free on all scenic trains (Provo Canyon Limited, Deer Creek Express, & Lakeside Limited). Immediate families are 50% off. Please call the ticket office for this special.
All rides and adventures depart from the Heber depot unless noted otherwise.
Change orders for ticket purchases may be subject to a $5 surcharge
With at least 48 hours notice, there is a cancellation fee of 20% per order, No refund will be given with less then 48 hours notification.
Management reserves the right to change the schedule or cancel trains at any time. The schedule may change without notice.